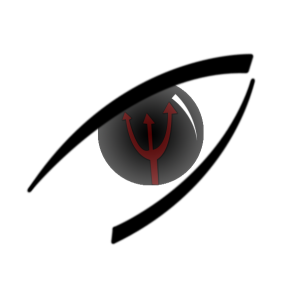 You know showrunners create good stories for the characters they've created, when they shake up current dynamics and begin pairing up people who've barely interacted before and manange chemistry between them.
Ezra has finally been let out of his apartment and allowed to interact with other mortals. Hanna's getting smarter by hanging out with Wren. Spencer tried to get some quality time with Garret, but he lawyered up on her. But my favorite pairing has been Aria and Jenna.
Though not entirely new, this is the first time it's not hostile (can we be sure about that? First the woman pointedly pretends to be blind. She says it's for "protection", but I'm not buyin it!). Jenna has made the first move to actively interact with the liars, clearly someting is up. She asks Aria to play with her at the assembly, walks with her arm tucked into Aria's elbow, even offers her cookies. But Aria is a super-slueth, nails a classic by Stephen Foster while peeking around Jenna's room. She finds a date and a time written on a piece of paper and the liars tail her.  She drives off in the same car Emily remembers from her flashbacks to a gunshop! Hanna's has had enough of Jenna playing them and confronts her. Being cornered, Jenna's defenses come up. She's learnt not to make eye contact during confrontations and she goes from being indignant to reminding them that they owe her and invoking their criminal past to keep her secret (what they did, setting fire to the house and shit, was terrible. They seemed to have had no backbone against Allison so in a way I don't understand Spencer's spirited animosity against her mother for defending Garret as "murdering my best friend". What did she do for you, Spencer? For any of you?). The liars aren't sure what to make of her any more.
Hanna's torn because her friendship has been toxic for people she cares about; Allison's dead, Mona's in a mental asylum and now Lucas looks to be unravelling as well. He's doing badly at school, he is no longer interested in Hanna's concern for him and to show just how little he cares he sets fire to the principal's note. Hanna sees him visiting Mona, but every confrontation makes him more hostile towards her and offers her no answers.
Spencer has to work the hardest to get the answers she needs. The Hastings matriarch is vague about why she's taken up Garret's case, but at least offered up that piece of information on her own. Melissa doesn't care, because she's lost everyone and her loathing for Allison and Spencer overrides all other emotions (I'm not sure I like how one dimensional she appeared in this episode). Spencer has learned to piece together half-sentences and cryptic messages into full blown clues and manages to peal away another layer of secrets: Melissa faked her miscarriage. Is that really all that Garret's holding over their heads; there's bound to be more right? (Ya know it!)
Emily is sick of being given preferential treatment and people going to bat for her. The girls have perjured themselves for her and now Ella has cheated on a test for her and may lose her job because of it. But then Ezra steps up and covers for his girls (he's pretty protective of all them…but in a less pervy way than Wren). Emily knows all of this is fodder for A and her justified outburst at Ezra is the only time anyone treats her like she's not made of glass. But then again, Ezra is pretty big on the whole "age is just a number" bit (That's never going to stop getting less…well…less).
Caleb's worried about Hanna, he feels threatened by Wren, but there is the far more tangible fear for Hanna's well-being. Hanna has protected Caleb from much of what has happened to her, how much she's gone through. Pretty obvious from his reaction to a little trash can fire (she pulled out a blind girl from a burning house!). He hasn't even figured out that it was Mona who ran her over with her car or poisoned Emily.
In a very short-sighted move he visits Mona, beautiful, flawless Mona who's on new medication which dries out her mouth, but that doesn't stop her from letting Caleb exactly how in control of the situation she really is. She's getting exactly what she wants, so she gets to laugh on the inside, okay.
Was that Bridget Moynahan at the end? Does Rosewood have a new doctor who isn't WREN?
The song Aria and Jenna play is the same one Mona is singing at the end. In the Eye Abides the Heart:
In the eye abides the heart.
Every pure and tender feeling,
All emotions worth revealing,
Through the eyes their charm impart.
Words are often clothed in guile;
For the lips with fear my falter:
E'en confiding smiles may alter
Oh! believe not in a smile!
My theory about Lucas: Now that Mona and her multiple personalities are nlocked away, the bulk of the stalking has fallen on him, he's taking advice on how to cope (develop multiple personalities, worked for Mona). Explains not having time to shower, shave, wear laundered clothes and generally not giving a shit.
How did Jenna and Mona never perform together at an assembly? HOW??
How do you keep your vodka chilled? Keep in a freezer with a body obviously!
Shazia is part bionic, part crazy (parts not mutually exclusive), and would be happy conversing solely in TV quotes, forever hopeful she'll be one-upped in her obscure TV references. She blogs here and microblogs here.