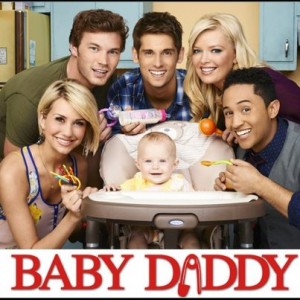 Unconventional families have been a stock trope for sitcom writers for a while now; Modern Family, Reba and Raising Hope come to mind at the top of my head. With Raising Hope garnering audience love, ABC Family decided this was an idea they could get behind. Except the show's creators failed to understand where Raising Hope's comedy is rooted. Look I'm no longer willing to cut ABC Family slack because of what their target audience is and who they're creating the show for. They've managed to do successful shows which go beyond stereotypes, created characters people have fallen in love with and rooted for and have managed to base them in reality too. Raising Hope is a show about people stuck in their dead-end lives, surrounded by poverty, trying to fight it and give Hope the chance at a better future than the ones they've been allowed. All the bad things life's dealt her with (crazy mother, possibly criminal genetics, orphanhood), her family works overtime to compensate for those things. At the end of the day its a show with a lot of heart and people with enough quirks  to be relatable to their audience as well as being able to laugh at their circumstances.
Baby Daddy's focus is more of how a baby can stop a seemingly good (but ultimately empty) life to a halt when a good looking bartender, whose life is one big party finds himself taking care of a baby left at his doorstep one, fine day. He and his roommates accept the responsibilty of raising this child almost immediately, although there is talk of putting her up for adoption, but clearly that will never be more than just talk. Ben's only proof of paternity is a birth certificate, one he accepts quite readily as being the absolute truth. He's clearly never watch a soap in his life. Not getting a DNA test done seems uncharacteristic of a guy who shirks responsibility.
Baby Daddy derives its humor in baby fluids, "old friend is a hottie, but remember when she used to be fat?", and "OMG how will we ever manage to care of a baby, crap we lost her". None of these have a particularly inspired new take on these old tropes. The lead actor and his brother are still learning the ropes of comedic timing and pacing; and the rest of the supporting cast can dance very slow circles around them (the writing doesn't allow them much else), mostly because of their sitcom acting experience.
Not much about the show would make most people want to tune in again. Well maybe to look at the cute baby one more time.
Shazia is part bionic, part crazy (parts not mutually exclusive), and would be happy conversing solely in TV quotes, forever hopeful she'll be one-upped in her obscure TV references. She blogs here and microblogs here.