The Return of White Collar
Don't be fooled people, that healthy glow, that new beard and those filled out abs are not because Neal Caffery (now James Maine) is hiding away on some small island off the coast of Cape Verde. It's because Matt Bommer (the real person) was in a movie called Magic Mike and they told him he was the stripper and not the pole; and told him to get beefed up for the role. Us tv audiences get to enjoy the long-term benefits of that and pretend he got healthy living the good life, on the run (health is key here).
While Neal and Mozzie (now Barry) hide away on a tropical island, back in New York we finally see Peter coonfessing to Mrs. Suit that he did in fact give Neal the signal to run and has since had to face the fallout from the Bureau and is under a lot of scrutiny. Bureau no longer trusts him to find Caffery, but he is still high priority for them, which is why Agent Collins has been brought in for the job. Not much is revealed about Collins' motivations, except he's the guy who gets the job done no matter what and he brings them in one way or another (Does the FBI really want Neal dead? What justifies that call?). Burke knows he's responsible for Neal and the idea of him returning to NYC in a body bag isn't something he can stand by and let happen. He tracks down Ellen, to ask her for her help in finding Neal before Collins does. With the help of Jones and Diana, and a emotional phone call with Neal, Peter manages to locate him; but in his haste leaves behind far too many clues for Collins to easily follow him (this will probably come back as evidence the Bureau will use against him).
On the island, Peter and Collins are in a race against each other to find Neal first; but Peter being his friend, Neal leads him to himself. Collins isn't far behind and so Neal tries to take refuge at the island's "protector" only to find out he's been betrayed by the same man. Guess Neal ran straight into the trap this time.
Suits
Another episode, another day for Harvey to prove to me that he's not such a dick afterall and another day Harvey decides he likes being exactly that (a dick i.e.) just fine. Lewis finally calls in his winnings from the sister's inheritance case, asking for Mike's services exclusively for a week. Though initially he is hesitant, as soon as Mike offers his opinion about Harvey's music collection (bad Mike) he gets sent to the gallows to work with Lewis, because that's exactly the kind of asshole Harvey is. Then when Lewis and Mike bond, and begin to respect each other, maybe even develop a friendship; Harvey decides he's not happy with that situation either and like an ear-worm begins to remind Mike that he cannot trust Lewis because he's a self-serving man (Pot meet Kettle).
On the flip-side, the build up to the return of Hardman has begun. Travis Tanner is back, claiming Harvey buried evidence of a car manufacturers' faulty design when a woman who's husband died in a car accident sued them. Tanner has made it blatantly clear that he is on a mission to destroy Harvey and to expose him as a someone who has won cases by evidence tampering. Harvey doesn't like being threatened and so asks both Donna and Mike to go through the old files to make sure their tracks are covered, but make sure nobody else finds out about it. Except Hardman does; this is exactly the kind of in he needed to begin taking over the company again. Hardman argues with Jessica and Harvey that he has the firm's best interests at heart, but what's left unsaid is that fortunately this time around, what's best for the company is in Hardman's favor as opposed to being in Jessica's favor like last time. Harvey doesn't mind because he knows he's done nothing wrong and Tanner won't be able to find anything on him. Problem though is that Donna's found the smoking gun and by the looks of it, she's the one who pulled the trigger.
Also I keep wanting to go karaoke with Hardman. All because of this
Sad side note: Rachel has been reduced to comic-relief. Sigh. Remember when she took the LSATS. It was last week! How could you have already forgotten that writers???
Pretty Little Liars
After last episode's ranting about the depicition of homosexual characters on tv, so on and so forth; Marlene King throws us a a curve ball by reintroducing Paige in Emily's life. Guess part of Maya's cousin's (you know my rule about learning names) job was to allow Em to be able to say good bye to her and move on. The other bit was chatting up Jenna and sucker-punching Garett when he went to meet his mother at the hospital. Still don't trust the guy though.
Speaking of trust, Jenna can see, in public! Well, more like Jenna is letting people know she can see and throwing a big bash to celebrate; At Emily's place of work. Her manager is Jean Ralphio (<3) in an alternate universe, so we already know this party's going to be all kinds of awesome (it does not disappoint)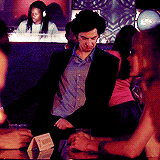 The liars are confused though, I mean just last week she was begging them not to out her because they owed her and now she's throwing a party? Jenna's got the perfect response to that.
At the party, Paige gets jealous of shifty boy (Nate I've been told) and gets drunk from Emily's flask of forgotten memories. Aria brings out Ezra in public (how has this man not been arrested as yet?) and Jenna totally undresses him with that "newely" acquired vision of hers (subtext: now you know what was happening behind those sunglasses during English). Aria doesn't have time for being insecure, she gets with the program since she needs access to Jenna's photographer's (for the party) studio to get the deets on Lucas (he worked there, wants his stuff back, photo evidence, graveyard, yada yada) and she's completely fine whoring Ezra out for that.
Hanna on the other hand has been having a bad few weeks, no Mona, no Caleb, no Dr. Wren (in order of importance); so she has no need to dress up anymore. Mother Extraordinaire signs her up for community service at the church to bring her out of her funk (and punish her for skipping school) and it's a good thing she did because thankfully Hanna was there to buy back Em's jacket from the night of the incident.
The "Night of the Incident" also brings us to the hospital where Spencer has been spying on Garett while he visits his mother; Officer Creepy catches her and makes some vague threats again (Can we sue him?). While Emily and Nate bring Paige in after she stumbles and hurts herself. When Nate punches Garret out, Spencer takes the opportunity to sneak into his mother's room and begins to frisk her comatose body for clues, and Mrs Reynolds does not disappoint. Drunk babes and brawling hunks, just another normal night in Rosewood.
Paige tried to drown her, Emily makes up for it by roofying her. True Love
Tsk Tsk, using your own mother's body to pass secret messages.
Why did ROSEWOOD'S ONLY RESIDENT DR. Wren not treat Paige (the writers hate Emilt that's why).
"A" looks a tad worried does (s)he not? A calm "A" would never rummage through Maya's purse like that.
Bunheads
Michelle's finally settling into her new home, getting all her stuff moved in, becoming comfortable in her own place. Except she gets a little too comfortable without the privacy curtains allow and Fanny teaches young, impressionable children; so this happens.
Joffery auditions are this week and Paradise has been hosting them for years. But a fax from Joffery all but confirms the probablity of shifting the auditions to Ojai (where people wear slippers and eat mushrooms) and Fanny is not taking the news well.
Initially Michelle doesn't understand what the "fuss" is all about; the girls can still go and audition; and if Fanny is so adamant about hosting the auditions in Paradise why doesn't she just get the floor fixed? The exasperation that seems to be Fanny's only answer is indication Michelle is still an outsider. Somebody who needs to be told these things, someone who doesn't already know. Truly is kind enough to come help Michelle fix her home and break it down for her. Fanny's entire existence, her identity are defined by the dance studio. It's been her pride and joy; and now when everything's been taken away from her (her son, her home in essence), it is the only thing she has left. Hosting these auditions mean everything to her; since Michelle is "responsible" for much of what has happened to Fanny, she makes it her mission to have her floor boards fixed in time to have her host the auditions. And when Michelle makes something her mission there's no stopping her, 'til it gets done.
Fanny finally accepts Michelle's help, showing  Michelle how it's really done. It's a teaching experience for Fanny, although she does have to take Michelle to another town to get it done.
This week, only Boo and Sasha get featured since these two were the only ones auditioning for Joffery's summer program; and also because both of them are representative of the larger theme of the ballet world. While Boo is sticking to a very strict regiment following up to the auditions, we barely see Sasha make any extra efforts. But she does feel bad about lashing out at Boo last week, and tries to make up for it. Initially Boo isn't interested, but when she finds out her mother doesn't think she will qualify and has had a cake baked offering condolences instead of congratulating her, she opens up to Sasha about it. Sasha uses this opportunity to get back in Boo's good graces, buying her new pointe shoes; because she is the most forgiving out of the girls and probably willing to give Sash multiple second chances.
While Boo strrugles to get noticed during her auditions, it is implied that Sasha coasted through hers, but Boo isn't very depressed about losing out. Although her mother may not have had complete faith in her, Fanny did; and even though she did not get selected, she did get some positive feedback from the judges and her self-confidence has been restored.
The progression of Michelle's auditions in her dreams: from an outright "no" to "better luck next time". She needs someone to believe in her too.
Fanny's latent maternal instincts manifest themselves this episode. From folding Michelle's clothes, to teaching her how to get men to do her bidding; Fanny's found someone to mother.
The Newsroom
The only things you need to know about this trainwreck:
The nerdy Indian tries to pitch the BigFoot about 3 times to his colleagues, with a powerpoint presentation at that. How has he not been demoted to the gossip rag section already?
The women continue to be exasperatingly weak and badly portrayed. From Maggie to all the women Will dates, I barely got to pay attention to the show I was head-desking so often.
In his need to be self-righteous and moralizing, Sorkin's team skipped a whole portion about the gun laws in NYC and made us watch that dreck about Will pointing a guy at a woman.
Finally; this happened. Obviously #headdesk
Did they use Coldplay's "Fix You" again? What can we do to make Sorkin's references relevant
Shazia is part bionic, part crazy (parts not mutually exclusive), and would be happy conversing solely in TV quotes, forever hopeful she'll be one-upped in her obscure TV references. She blogs here and microblogs here.