Three seasons in, A has had to up her (MP: why a her? Don't get sucked in by the idea that just because Mona gave herself up as "A", it's only a girl. There are various people on this sycophantic play) game. The liars have survived most of what A has thrown at them, except for Emily and A continues to exploit her as the weakest link. While discussing Hedda Gabler in Ella Montgomery's class, Emily finds a gift (term used loosely) in her bag.
Gone are the doll-playing days, the liars now get real teeth to mess with their heads. Aria tries to convince them to come clean to the police or at least their parents, but the lies run so deep and A has quite the plausible deniability (locked in a mental asylum).
The answers lie with Mona and Garett, and the liars never really have been able to keep away from danger. But people around them have wised up. Caleb drives Hanna to and waits for her outside. Though Mona isn't the only one Caleb has to worry about; Rosewood's ONLY residential doctor is helping Hanna cope, making her smarter and seems to be the only one who understands Hanna right now. Caleb does not trust Dr Wren at all. (MP: If he decides to pay Hanna a "house call", I swear the dude's exhibiting pedophilic behavior!)
Inside, Hanna puts makeup on Mona and tries to make small talk, but Mona's silence is deafening and frustrating. Hanna's done being polite and waiting for answers. Why did Mona betray her? They were best friends and she blackmailed her, tried to get her to relapse on her eating disorder, almost ruined her relationship with her father and Caleb, ruined her relationship with Sean (remember him??) and ran her over with her car (MP: well, not technically "over"). But Hanna should already know the answer to those questions. It may have not been apparent to Hanna, but she failed the loyalty test first. Mona's eyes say it all, the accusations are there for Hanna to see, but only if she chooses to (MP: yeah, but come on! Nothing justifies what's been done to H and her friends…). Her outburst gets her visit cut short and she is once again left with no answers.
More PLL | Game on for the Liars…
Back at the Hastings, Spencer's clandestine meetings with Garret are no longer a secret and her mother forbids her from seeing him again, but anytime you tell Spencer to do something, she's going to go do the opposite (maybe try reverse psychology next time). The next time she goes to visit him, she finds her mother there too and Garret has sufficiently lawyered up (with her mother…) and shut up (MP: the plot thickens).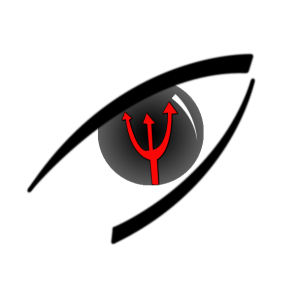 Emily, Ezra and Ella's worlds "intersect" when Aria convinces Ezra to tutor Emily for her English make up test. Ezra is a good teacher, but all Em really needs is a confidence boost. During the test, Emily's memory is triggered once again; and though she remember's Jenna driving her the night of her blackout, she doesn't manage to finish her test. Ella knows Emily has been through a lot, cuts her some slack and cheats on Emily's test for her. What Ella doesn't know is someone is always watching (MP: why doesn't she know about this by now? Has she learned NOTHING?). There are no secrets in Rosewood that stay hidden forever.
Maybe Aria should give Ella a rundown of how it works. Aria is forced to come clean to her father and his ex-mistress about framing her for vandalizing his office with Allison. What she learns though is that Allison had planted "evidence" of her father's continued infidelity that had caused her to outrage against him. Allie knows the only way men stop cheating is if the threat of being caught becomes imminently real. If Allison had lived long enough, she had quite the career as an unorthodox counselor for scorned women.
And finally, Jenna has returned from "music camp" blinder than before, stumbling, bumping into people, spilling their coffee. The girls are a paranoid bunch now and their lie detector is working over time around her. Toby finds eye drops in her room, but those are inconclusive, so the liars bait her with shiny jewellery. AWWW! (MP: May I just say, S, you have a twisted sense of humor…)
The liars know Jenna's secret and they're gonna play that to their advantage.
In A news, he/she is buying those hoodies again. But why though? Didn't they take back all the supplies from Mona's lair? Although…Mona is a petite girl, maybe its a size issue.
Speaking of Mona, she's collecting Hanna's stuff to construct a shrine for her too right?
Basic mathematical calculations suggest Group A (I know, its footie season) is at least 20 people strong. Mona was probably half of them anyway.
Shazia is part bionic, part crazy (parts not mutually exclusive), and would be happy conversing solely in TV quotes, forever hopeful she'll be one-upped in her obscure TV references. She blogs here and microblogs here.
Maryam (TMS Editor-in-Chief) shares the columnist's channel surfing tendencies but not her dedication to write anything longer than 140 characters. The Robin to Shazia's Batman, M always appears in parenthesized italics.