Shameen Arshad looks at an innovative university program that seeks to improve the lives of transgender people in Lahore
By Shameen Arshad
National College of Arts — the institution that hand picks the best creative talent from within the country, seems to be breaking boundaries not only in art making, but also when it comes to social norms. It boasts of a community that creates its own set of rules and boundaries. The institution is well known for the diversity in its recruitment due to seats that are allotted through a quota system, which results in an influx of students from myraid backgrounds, cultures and mindsets. The selection process ensures that the less privileged and the affluent classes are entitled to the same level of education. Children from private schools as well as government schools are equally eligible based solely upon their skill and acuity.
The students and staff, seem to accept others completely different from themselves and learn to co-exist. This acceptance is now being practiced beyond the student circle, as this courtesy has now been extended to another group — the transgender.
Transgender people or "khuwaja sirahs" have been shunned in society. Despite having the required education,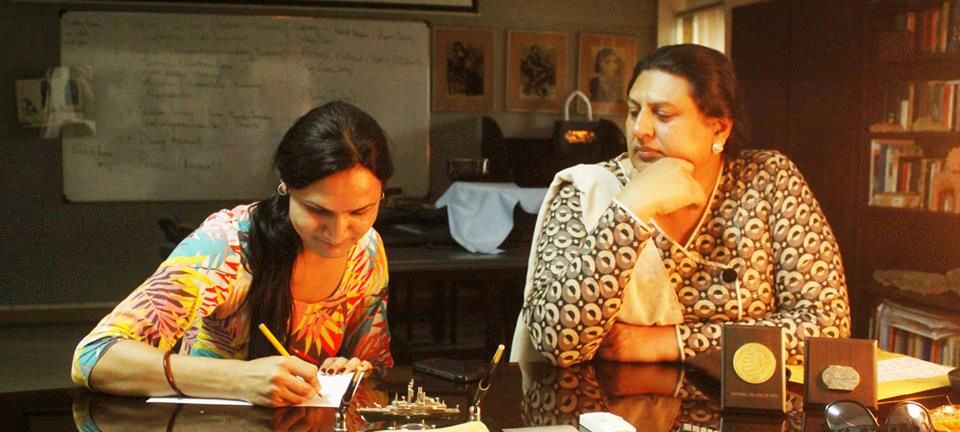 they still face ridicule and discrimination, having less or no employment opportunities, and forcing them into a life of prostitution or professional dancing. Having adopted degrading professions, and hence leading poor quality lives, many of them are burdened with a kind of grief to boot. Recently National College of Arts has tried to play their part in combating this discrimination.
Nadeem Omar Tarar, the director at National College of Arts, explained the entire process that lead to the hiring of transgender people as part of their staff, as well as the people who were instrumental in carrying out the venture. Dr Tarar stated that the hiring was the result of an academic discussion with a student at COMSATS, Usman Mughal, whose thesis revolved around the employment issues faced by the transgender community in Pakistan, and was completed under the supervision of Dr Abu Bakar.
"We all agreed that the only way to help save transgenders from discrimination is to mainstream them through employment. Once they are visible in regular jobs, their stereotypical image as sex objects will change. Once their presence is normalized in the mainstream society, they can lead a decent life.  I thought maybe if we can find an educated TG, we may hire him or her so I asked Usman to put me through to somebody who can help," Nadeem said.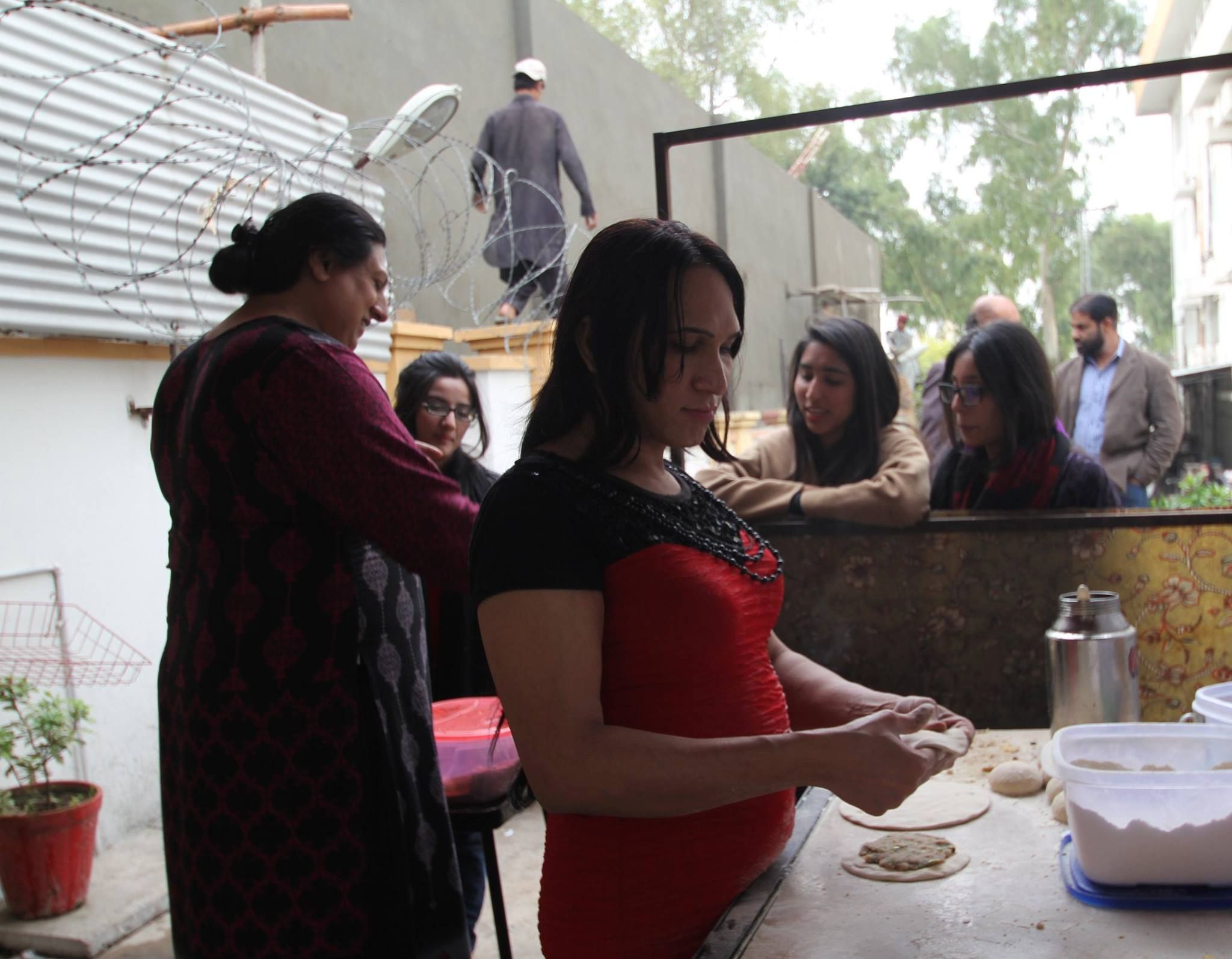 Dr Tarar declared that the hiring was possible under the Supreme Court judgment of 2009 where the government promised transgender people a 2% job quota, along with free health care and education. Furthermore, he added that "On account of gender disorder in their bodies, they can be accommodated [in] jobs which they can perform quite conveniently."
When asked how the staff and students responded to this venture, Nadeem states that it was initially met with shock and skepticism, but was, eventually, widely accepted. The faculty met the challenge with alacrity, along with principal Dr Murtaza Jafri, some of them even actively took a part in the hiring.
"Usman arranged our meeting with Bubbli Malik, who is a TG guru of a community in Rawalpindi. Our faculty, Mehrbano Khattaq also decided to accompany me to Bubbli's house. After the meeting, the Bubbli came with a young TG, Veena, who was introduced to the faculty and then selected to be the administrative assistant. Ms Khattaq volunteered to take her under her wing. Meanwhile, the college canteen became vacant after the summer vacation. We asked Bubbli Malik if she is interested to run it. She had some experience of running a small shop or eatery, so she decided to take a plunge. Now the canteen is staffed by 2 TGs and supported by a male member of their staff." Dr Tarar explained.
The hiring of Bubbli Malik and her colleague is the first project initiated by "Wajood", an NGO created mainly to support the transgender community, set up by Malik herself  along with the assistance of the head of the English department at IQRA University.
These new job opportunities have opened up more venues for transgender people, allowing them to pursue different careers instead of being dragooned into demeaning jobs. These respectful jobs, though less lucrative, have been embraced wholeheartedly by the community.
The administrative assistant, Veena Malik, has been working for the fine arts department for the past four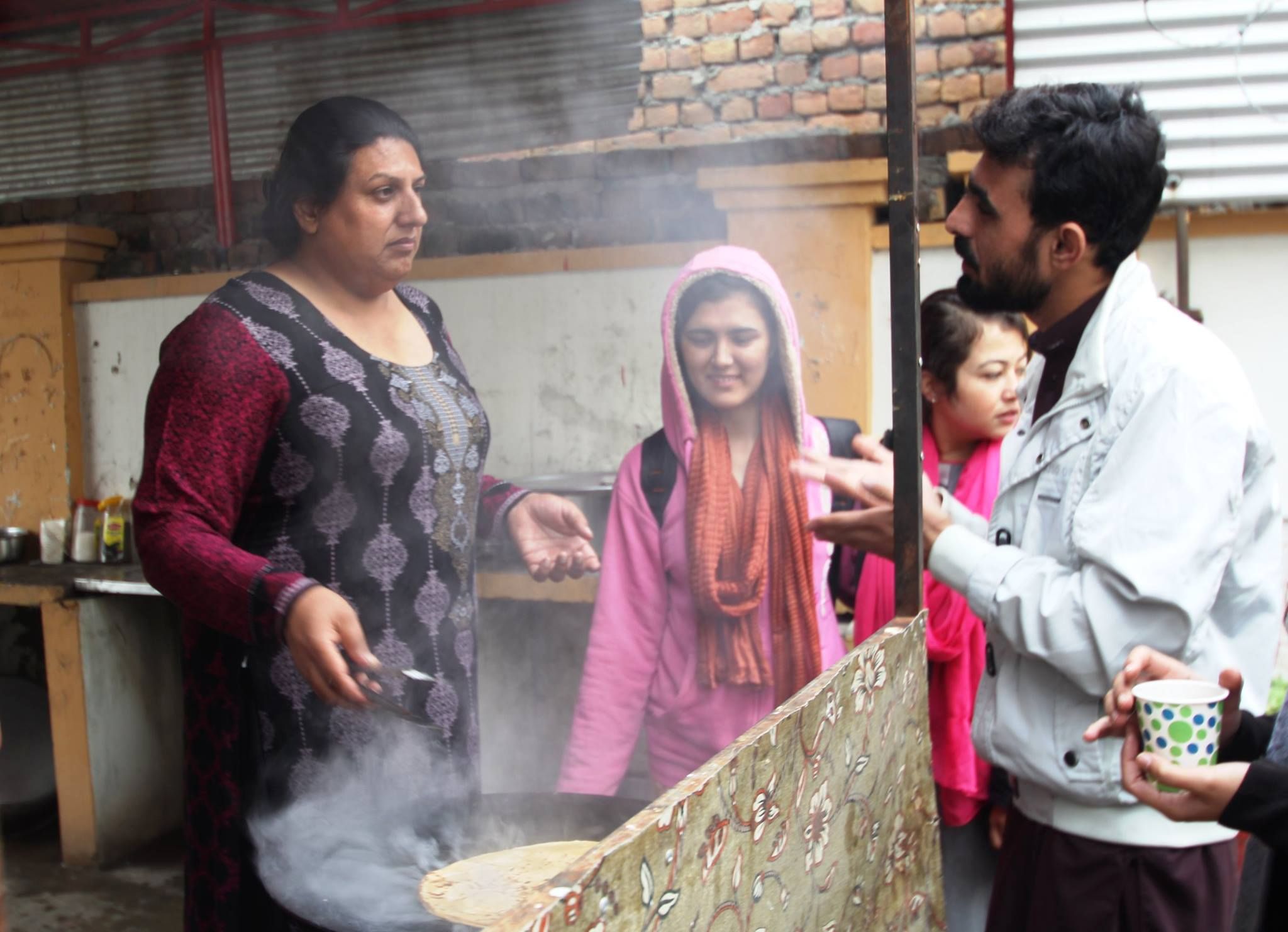 months.  "She is under matriculation, but sufficiently educated to quickly learn to operate a computer and type a letter", says Tarar, "She has a working knowledge of English and a good command over Urdu, both in speech and writing."
The director revealed that Malik willingly quit her more lucrative job as a dancer for the modestly paid desk work, prioritizing decent work and respect from others over money. "She has a kind of respect which she had never enjoyed in her previous work. Veena owes her values to her Guru, Bubbli Malik, who steered her way into NCA", Nadeem Tarar hopes that this initiative will encourage other institutions to do the same to help reduce gender discrimination.
This bold step taken by the institution has also influenced the creative process of the present student body. An architecture student, Hajira Qazi, at National College of Arts, Lahore has taken up "the treatment of transgenders" as her thesis topic which is to be submitted the coming year. Hajira questions the social unacceptability of khwaja saras in the community. She claims that the intention behind picking up this topic was to play a part in acting as a catalyst to bring about the assimilation of the third gender in society. She claims, "My thesis explores the (intolerance against transgenders), and I conclude that we need to start off from somewhere. At least provide a platform that acts as a catalyst to help integrate them in the society. I talk about breaking the binary, as when it comes to gender our society is pretty polarized. They can't perceive the third, the in between. You can't just have 1's and 0's it's a whole spectrum."
Shameen Arshad is an art editor with the magazine.