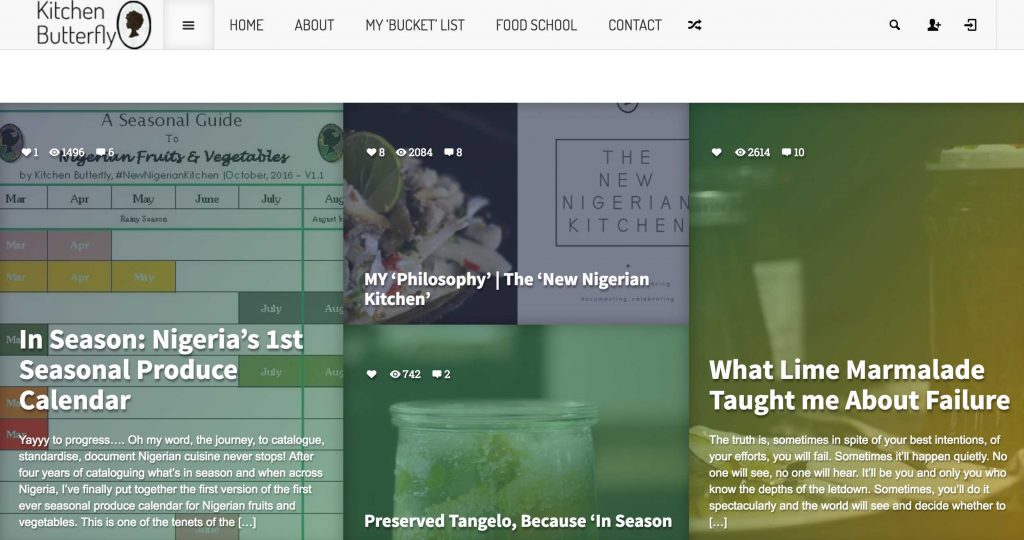 I don't get this thing about photographing food. The appearance of any given dish is often the least of its pleasures, when set against the texture, the smell, and, of course, the taste. To address these qualities you need words.
You cannot "write food" in the transitive way that you might claim to photograph food. You cannot find the objective equivalent in words of the crunch of peanuts in a Pad Thai or the sizzle of bacon in an English breakfast or the smoke from a brisket after 18 hours on the pit at Franklin Barbecue in Austin, Texas. But writing about food produces great poetry all its own.
Among the food-poets, Fuchsia Dunlop is my Chaucer of Chinese cooking, Frances Leech is my Proust of pastry chefs, and Daniel Vaughn is my Swinburne of sausage.
They say a picture is worth a thousand words… These few words are worth a thousand pictures
To their number I can now add
Ozoz Sokoh
, whose Nigerian food blog,
Kitchen Butterfly
, I am discovering far too late in life, but not too late for stocking up on cilantro and green cardamom and doing my north-London best to recreate some of these joyous dishes in my own chilly kitchen.
If, like me, you are coming new to Nigerian food, start by reading Kitchen Butterfly's short guide to the Language & Lexicon of Nigerian Cuisine,
"For the longest time, it didn't occur to me that 'sweet' was a word for sweet dishes — desserts and the like — because in Nigeria, any food considered delicious — sweet or savoury — has the potential to be 'sweet'… Like 'Men, the soup sweet die'. The literal translation is 'Men, this soup is delicious, this soup is really good, I really enjoyed this soup'…this savoury 'soup' which in actual fact is a stew (and we'll come to that)." 
Duly forewarned that "soup" in Nigeria is "stew" in many other countries, you can proceed to make Nigerian Pepper Soup unperturbed by the illustration showing a chicken casserole. For the spices you will want atariko, uda, gbafilo and rigije, although take care when seeking them out:
"The dilemma of a populous country is the multiplicity of languages and Nigeria is no exception. The name of one spice will vary from one village to the next town, only a few hundred metres away. And further, one outside their locality will struggle to find the spice they need for their pot of soup because what is the name in their dialect, suddenly becomes an insult in another language."
Pepper Soup is the essential Kitchen Butterfly post: If you only make one dish, make it this one. But the most masterly post, the one somebody should turn into a book, and fast, is 'Around The World In Bottom Pot', a comprehensive guide to what happens when you turn up the heat on the rice stuck at the bottom your cooking pot, and so caramelise it into the finest comfort food on Earth.
Depending on where you live, you may know this dish as kanzo, socarrat, xoon, tahdig, bay kdaing, tutong, guo ba, co'm chay, hkaka, kazmag, pegao, concón or — in Nigeria — bottom pot. Whatever the name, order it. As Kitchen Butterfly explains:
"Characteristics of good bottom pot: 
Flavour – smoky, not burnt; 
Texture – crispy and crunchy; 
Colour – golden to dark caramel; 
Value – priceless"
They say a picture is worth a thousand words. I reckon these few words are worth a thousand pictures on social media.
Robert Cottrell is editor of The Browser, which recommends five or six pieces of exceptional writing available online each day. He was previously a staff writer for The Economist and the Financial Times.